---
Services
Accommodation for up to 45 days.
Breakfast, Lunch and Dinner.
Distribution of toiletries, footwear and clothing.
Medical care.
Telephone calls, Internet and video calls.
Daily talks on human rights, addiction issues, sexual health, and more.
Referral of migrants to relevant specialized institutions.
Assistance with obtaining documents: Birth Certificate, CURP, Social Security Number.
Employment bureau (creation of resume and job application).
Safe space to store money and documents.
Departments and areas of attention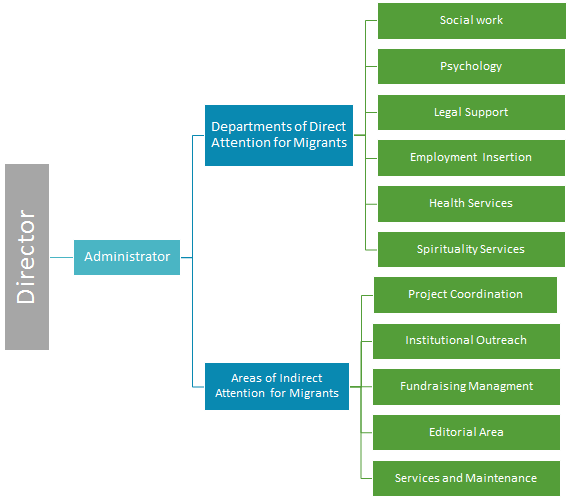 Our presence around the world
>Scalabrini Network
Scalabrini International Migration Network
CASA DEL MIGRANTE
NAZARETH, A.C.

Madero #350
Col. Viveros
Nuevo Laredo, Tamps.
Tel. ( 867 ) 189-8883 y
(867) 714-2201
En U.S.A:
P.O. Box 1511
Laredo, TX 78042
casamigrantenl@yahoo.com
http://www.migrante.com.mx/nuevo-laredo.html

CASA DEL MIGRANTE EN TAPACHULA, ALBERGUE BELEN.

Av. Hidalgo s/n
Col. San Antonio Cahoacán
Apartado Postal #87
C.P. 29700 TAPACHULA, Chis.
Tel: (962) 625-4812
Fax (962) 626-7770
rigoni2000@yahoo.com
http://www.migrante.com.mx/tapachula.html

CASA DEL MIGRANTE
EN TIJUANA, A.C.

Calle Galileo 239 Col. Postal
Tijuana, B.C. 22350
Tel. (664) 382-7685 y
(664) 682-5180
Fax (664) 682-6358
En U.S.A:
P.O. Box 430387
San Diego, CA 92143
casadelmigrantetijuana@gmail.com

CASA DEL MIGRANTE
EN GUATEMALA

15 Ave 1-94 "A" zona 1, Ciudad de Guatemala
Tel: (502) 2230-2781
cscalapm@gmail.com
http://www.migrante.com.mx/guatemala.html

CASA DEL MIGRANTE
EN TECÚN UMÁN

0 Av. "C" del Migrante, 0-22
Col. Olguita de León
TECUN-UMAN. 12017- San. Marcos (Guatemala)
Tel: (502) 7776-8416
Fax: (502) 7776- 8417
migrantetecun@yahoo.com.mx
http://www.migrante.com.mx/tecuacuten-umaacuten.html

CENTRO DE PASTORAL MIGRATORIA GUADALAJARA

Teléfono: (33) 3811 3342
E-mail: cpmcs@yahoo.com
>National Migrant Support Network
Directorio de Organizaciones Civiles que atienden migrantes en la Frontera Norte
 

Consulado General de Guatemala en Tijuana

 

Centros de Integración Juvenil, A.C